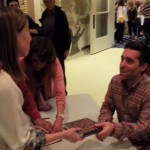 Oh, what a night! WhatSmartWomenRead has attended plenty of author events, but we never had an experience quite like this.  It was a mind-blowing, gravity-defying, energy-bending glimpse into Nathan Englander's creative process, and it was awesome to consider how such clear, coherent, and gorgeous prose comes out of his unplugged, overdrive mind.
While the typical event consists of a reading followed by questions and answers from the audience, on this evening we just listened to the author describe, in a completely unfettered, untethered way, his approach to writing. His comments came at us at lightning speed, so we are now struggling to recall exactly what we heard. But, here are a few things that stood out.
1. Englander's absolute need to write–it is his dharma and lives within him as a force of nature. It is also abundantly clear that writing is his Valium–without it (the writing, that is), he is a man on fire.
2. All the writer needs is one reader. "The Reader" (from What We Talk About When We Talk About Anne Frank) illustrates this point.
3. When an audience member asked the author to reveal a character's innocence or guilt, which is ambiguous in the story "Camp Sundown," Englander replied that readers bring their own truth to fiction. He said that the reader's reality interacts with the author's narrative, and it is the reader's prerogative to make assumptions, fill in the gaps, and create his or her own story.
4. Englander spoke of the sacred moments of self-consciousness and loss of awareness. He made several references to the bicameral mind, which states that the brain is divided between one part that appears to be speaking and another part which listens and obeys. He stated that when his brain is most alive, it is spontaneously providing information to another part of his mind which records (as he types) his thoughts. For most of us, this might be more readily understood as the 'zone' or a form of active meditation (chop wood, carry water).
It was a wonderful, insane experience, and the audience enjoyed Englander's great sense of humor and brilliant mind–qualities that make his work unique and appealing. If you are not familiar with his fiction, he has two short story collections (For the Relief of Unbearable Urges and What We Talk About When We Talk About Anne Frank) and an extraordinary novel (The Ministry of Special Cases). And, he is now in the process of transforming one of his stories, "The Twenty-seventh Man," into a play that is opening next month at the Public Theater in New York.
On another note, Whatsmartwomenread.com is celebrating its first anniversary. We have received nearly 20,000 hits, have 337 subscribers, and 121 "Likes" on Facebook. We thank you for your support and would love to know what you like about the site and what you would like to see more of. Please email us at info@whatsmartwomenread.com with your comments.
By the way, the photo is of the blogger thanking Englander for signing her book.