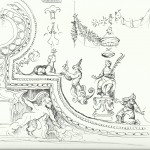 If you have qualms about the pervasive effects of social media, then Dave Eggers' The Circle will heighten your suspicions. In this fast paced, disturbing look at the inevitable intrusion of all things internet into our lives,  your worst fears are realized. And, the fact that the novel never veers toward science fiction makes the narrative all the more real.
Is it too late to recover our privacy? Is there a value to transparency? These are the central and haunting questions of the The Circle and perhaps our entire generation. We are passionate Dave Eggers fans…his remarkable books, which include A Heartbreaking Work of  Staggering Genuis, What is the What, Zeitoun, and A Hologram for the King always capture the imagination while delving into important current issues. If you haven't read his work, the time is now.
Mae, the main character of The Circle, is a vulnerable young woman who lands a coveted job in the exciting tech world. She is moving up the ladder fast and dazzled by her increasing power. However, she intuitively understands the need for solitude and finds peace in kayaking to the middle of a bay in Northern California in the company of the harbor seals. This is her retreat–where she goes to solve problems and understand the complexities of life. Once the Circle's "SeeChange" cameras are installed at her favorite rental spot, Mae is discovered using a kayak without permission. The leaders of The Circle are notified, and they confront Mae with a teachable moment described as 'the perfectibility of human beings.'
The corporate mantra is "All that happens must be known;" thus, Mae's attempt to kayak secretively is viewed as going against another one of the Circle's views: "Privacy is theft." The leaders accuse Mae, and anyone who wants to keep a secret, of trying "to impede the unimpeachable improvement of the world." But, Eggers is really asking, "Do we have a right to disappear?", "Is is okay to be tracked from birth to death?", and "Are we even conscious of the insidious effects of technology, even the ones we are opting into of our own volition?"
This novel is an absolute must-read for you and your book groups. The discussions will be provocative, timely, and important. We highly recommend this novel as well as others by Dave Eggers.
Did you know that by clicking on the art that adorns this page you can view it in a larger, more splendid format? Try and enjoy this pen and ink by Jose Grave de Peralta.