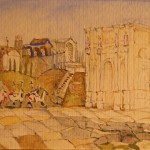 Over the last six months we have enjoyed some wonderful novels that are ideal for your reading groups. We have specifically explored writers under the age of forty, including Gary Shteyngart, Claire Vaye Watkins, Junot Diaz, and Chimamanda Adichie. They all make unique and meaningful statements reflecting their generation's worldview, but the real standout is Jennifer Dubois.
Her novel, A Partial History of Lost Causes, delves headlong into the big question of mortality, and the difficulty of facing a challenge when you know it's a lost cause. This conundrum is framed literally through Aleksandr, a chess prodigy who has to cope with loss and humiliation in numerous public matches. It is developed much more philosophically through Irina, a thirty-year-old woman struggling to deal with her diagnosis of Huntington's disease. All of this  is framed against the backdrop of Russia from 1979-2007. The politics and history add to the sense of terror and futility that so brilliantly underscore the novel.
The catalyst for the story is a letter Irina finds that her father, whose memory and motor skills were destroyed by Huntington's, wrote to Aleksandr asking how he faces a chess match when he knew from the beginning he would lose: "When you find yourself playing such a game….what is the proper way to proceed? What story do you tell yourself when that enormous certainty is upon you and you scrape against the edges of your own self?' To confront her own mortality, and to avoid having her mother and boyfriend watch her deteriorate, she goes to Russia  to get an answer for her father and for herself.
What follows is nothing short of life changing for Irina, Aleksandr, and, perhaps most importantly, the reader. After all, books teach us how to live, and sometimes even what we should do before we die. A Partial History of Lost Causes does all that and more. The writing is beautiful, and you will find yourself lingering over words, phrases, and ideas like, "Nothing makes a person materialistic like severe deprivation," "I am not ready to die. I am not even bored of the fact that the world is round," and "You look like somebody who feels sorrier for yourself than is strictly necessary." We highly recommend Dubois' novel and eagerly anticipate her next book.