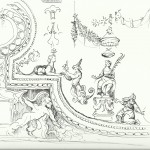 When was the last time you read a book and felt like you couldn't penetrate the text? With all the press commemorating the twenty-year anniversary of David Foster Wallace's Infinite Jest, those of us who just couldn't read the book are wondering why a free association, stream of consciousness, 900 page novel with more than 200 pages of footnotes continues to be held in such high regard. As for our ambitious reading group that ventures far outside the literary comfort zone, it was the only novel in many years that we abandoned.
In Tom Bissell's essay in the New York Times Book Review, he posits four theories why Infinite Jest "still feels so transcendentally, electrically alive." These theories, in a nutshell, suggest that 1) Art must have a higher purpose than mere entertainment, 2) Infinite Jest is a genuinely groundbreaking novel of language and surpasses almost every novel written in the last century in this regard, 3)  "Infinite Jest" is a peerlessly gripping novel of character, and 4)  "Infinite Jest" is unquestionably the novel of its generation.
Perhaps Infinite Jest meets all four criteria, but where does that leave the reader? If a novel is inaccessible and written for a tiny audience (or perhaps just for the author's pleasure), should we feel compelled to read it and beat ourselves up if we can't make sense of it?
This question, to a somewhat lesser degree, came up with our most recent selection, Ali Smith's How to Be Both, which was short-listed for the Man Booker Prize, and winner of the Bailey Women's Prize for Fiction, the 2014 Goldsmiths Prize, the 2014 Costa Novel Award, and Saltire Literary Book of the Year Award. The novel was issued in two editions, one with the contemporary story of a young girl (George) mourning the death of her mother as one narrative and the other with the painter Francesco del Cossa as its protagonist. The two sections are connected thematically through the art world, and concepts of gender, power, and justice are explored. While most of our readers preferred the edition with George's section first, some of us just couldn't play along with Ali Smith's game.
In the end, the question remains: Why do we read? Is it to experience an intellectual challenge with form and explore new ways of telling stories? Certainly. But there is also something to be said about being carried away by a novel that is beautifully written and literally unique yet doesn't require constant reexamination of the text. If you love to read for distraction, enjoyment, immersion, education, enlightenment, expansion, or empathy, then perhaps a novel like My Name is Lucy Barton will excite your imagination. It certainly met our criteria as did A Partial History of Lost Causes and All the Light We Cannot See. If  you haven't read these novels, then you might consider them for your reading groups.
Our next book, which we will blog about in a few weeks, is Anthony Marra's A Constellation of Vital Phenomena.
For discussion questions on How to Be Both click here.