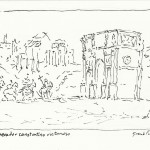 If you haven't read Ethan Canin's fiction, then you are really missing something.
Starting with his first collection of short stories "The Emperor of the Air" through his most recent novel, America America, Canin has displayed a profound understanding of human nature. He has the gift of translating the most universal character flaws into perfect, compelling, and moving narratives. Canin is so good that you can read the same story over and over and still be joyfully elevated or emotionally stricken.
From the first time we taught "Carnival Dog, Buyer of Diamonds" to university students (who loved the story as much as we did), we were absolutely mesmerized by this author's talent. It feels as if he has lived each of the character's lives and gives you access into their hearts and souls. His writing is honest, clear, and most astoundingly wise. What more could a smart woman ask for?
This month one of our groups read The Palace Thief (check out Other Smart Reads for discussion questions)–a most brilliant set of four stories. Each one is spectacular in its own right, but our favorites are "Batorsag and Szerelem" and the title story. "Batorsag and Szerelem" is one of sibling rivalry unlike any other we have read, and it is hard not to recognize ourselves in this powerful family story.
"The Palace Thief"" centers on a teacher who overestimates his importance and comes to recognize his place in the world through his interaction with the boys at his boarding school. The main character, Mr. Hundert, dedicates his life to teaching and confesses, "That school was my life."
Later in the story, when he is reunited with several of his best students, he reflects: "Oh, how little we understand of men if we think that their childhood slights are forgotten!" Canin's insight into the human condition and his recurring statement that 'character is destiny,' and 'the die is cast' brings classic beliefs to the modern day.
On behalf of all smart women, we anxiously await Canin's next novel…it will surely be a gift.
By the way, the beautiful drawings that adorn the site are gifts from our dear friend and most gifted artist from Rome, Jose Grave de Peralta. To learn more about him and his work, please visit www.otoroazul.com