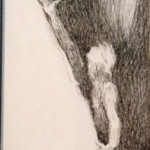 The New York Times critic Liesl Schillinger writes, "In The Sense of an Ending Julian Barnes reveals crystalline truths that have taken a lifetime to harden. He has honed their edges, and polished them to a high gleam." Also of The New York Times, Geoff Dyer suggests, "Any extreme expression of opinion about The Sense of an Ending seems inappropriate. It isn't terrible, it is just so average."
So how does a smart woman reconcile such divergent points of view? This is one of the more fascinating questions that many reading groups deal with when discussing fiction. Ultimately, how we feel about any work is based on our own reactions and impressions, and in the case of The Sense of an Ending, we would more likely agree with Dyer's position than Schillinger's. And for one specific reason: This mostly strong novel is compromised by a convoluted ending.
An accessible and fairly short book, there is much to recommend it. The novel teases out an interesting theme: Is it better to live a meaningless life or to commit a meaningful suicide? Early in the story, a young classmate named Robson commits suicide ostensibly because his girlfriend is pregnant. His suicide note reads, "Sorry, Mum." This gives rise to a compelling conversation led mostly by Adrian who quotes Camus: "Suicide was the only true philosophical question."
In his own suicide note, Adrian writes, "Life is a gift bestowed without anyone asking for it; that the thinking person has the philosophical duty to examine both the nature of life and the conditions it comes with; and that if this person decides to renounce the gift no one asks for, it is a moral and human duty to act on the consequences of that decision." Clearly, this is heavy stuff, not to mention the novel's other themes of history, time, and memory.
The characters are finely drawn and the story line is solid, but in addition to the issues with the ending there are problems with the reliability of the narrator, Tony Webster. He asks, "Who was it who said that memory is what we thought we'd forgotten? And it ought to be obvious to us that time doesn't act as a fixative, rather as a solvent. But it's not convenient–it's not useful–to believe this; it doesn't help us get on with our lives; so we ignore it." If the narrator is continually filling in the blanks without any certainty, where does that leave the poor reader?
While the novel is flawed, we would still recommend it as a good selection for reading groups. There is much to discuss, and the writing (as reflected by some of the passages above) is quite good. And, Julian Barnes did win the Man Booker Prize in 2011 for this work.
By the way, one of our reading groups will meet to discuss this book on Saturday. If you are interested, discussion questions will be found under Other Smart Reads.