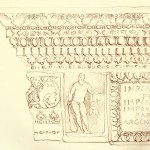 Authors often insist that their work is an expression of their imagination, boldly denying that it is a reflection of their personal lives. David Grossman was one of those authors, but his work was transformed in 2003.
Grossman writes, "About four years ago, when my oldest son, Uri, was about to join the army, I could no longer follow my recent ways. A sense of urgency and alarm washed over me, leaving me restless. I then began writing a novel that treats directly the bleak reality in which I live. A novel that depicts how external violence and the cruelty of the general political and military reality penetrate the tender and vulnerable tissue of a single family, ultimately tearing it asunder."
The result of Grossman's decision is the magnificent, yet heart-wrenching novel, To the End of the Land.
In a nutshell, this is Ora's story–a mother whose heart is broken when her son Ofer decides to re-enlist after satisfying his obligation to the army. Ora and Ofer had planned a mother-son, post-release hike in northern Israel, which they will now be unable to take. But, after she delivers Ofer to the army's designated meeting site, she becomes manic and determines that she can betray fate if she takes the hike and stays far from home unable to receive any bad news. Ora, for all intents and purposes, kidnaps her former lover and husband's best friend, Avram, so she doesn't have to take the trip alone.
This novel is a post-modern journey–one in which the voyagers seek to make sense of their world and overcome significant psychological, emotional, physical, and historical challenges. In this case, Ora's survival depends on two things: using magical thinking to keep Ofer alive and revealing his life story to his father Avram.
Ora, from the first time we meet her in the isolation ward, is torn between two men, Ilan and Avram, and her family and her homeland. Grossman's brilliance at conflating these two elements, the personal and the political, makes this a complex,engrossing read. In the end, it is one of the finest anti-war novels ever written that never loses sight of the human heart.
We highly recommend this novel as a must read for smart women. Let us know what you think by posting a comment at the top of this page.
To read Grossman's entire essay, "Writing in the Dark," click here.