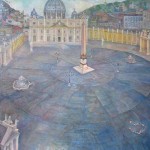 Women love their book groups for many reasons, not the least of which being the close bonds we form through our conversations about what we read. As we reveal our points of view about the reading, we can't help but learn so much about ourselves and one another.
Very often, when analyzing a character's motivations, behaviors, or failures, and making judgments one way or another about what he or she chooses to do, we gain insight into our (and one another's) moral compass, political position, religious or spiritual belief, and personal values.
So, as a reframe of Raymond Carver's "What We Talk About When We Talk About Love" and Nathan Englander's "What We Talk About When We Talk About Anne Frank," we"d like you to consider the question, "What is it that we really talk about when we talk about books?"
In response to this question, one smart woman wrote:
"That's a pretty loaded question! I saw this post late last night when I got home from a book group. An answer could be rather lengthy, but I will choose to comment on how enlightening a discussion can be.
Different book clubs have very different dynamics, but in general each individual person's insights open up a new perspective on how they choose to perceive life. Over the years, my critiques of literature have become much more analytical, and I find myself always looking for something to appreciate, to admire about the work – – whether it is plot, characterization, use of language, etc.
I have generally been a rather judgmental person, and it's a character trait I'm trying to revise; I like to think that my approach to discussing literature is showing a more optimistic and positive way of looking at the world. There is nothing better than when, at a book club meeting when someone is very critical, and after discussion with others, says "Wow, I never saw it "that way" … I'll have to reconsider my thoughts! There may be something more to this than I realized!". Thanks for the question; it prompted some important thoughts for me."
While most reading groups refrain from personal revelations (which can turn a great discussion into a support group), we can't help but reveal who we are when evaluate and analyze literature. What have you learned from your book club that you wouldn't know if you read the book on your own? Why do you belong to a group (or groups)? Please let us hear from you by posting a comment on the top of this page.
Please make a note: On October 24 at 7:30 pm, Nathan Englander (one of whatsmartwomenreads favorite authors) will discuss his award-winning short stories at Bet Shira Congregation located at 7500 SW 120 Street, Miami. The presentation will be followed by a book signing and refreshments. For more information, call 305 271-9000.