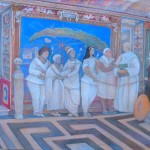 Every year our reading group selects books according to a specific theme. As you know, in 2012-2013 we read world literature, and previous seasons were organized around prize-winners, African-American and Southern fiction. This is an interesting way to choose books and may be a strategy to introduce to your own clubs.
For the 2013-2014 season we decided to direct our attention to writers under 40. This is a popular trend, and The New Yorker and Granta frequently preview these exciting and emerging authors. Many of the writers who were introduced to us in this way, Michael Chabon, Nicole Krauss, Zadie Smith, Jonathan Safran Foer, and Jonathan Franzen to name a few, have gone on to impressive literary careers.
So, we are enthusiastic about next year's line up and once again hope you will consider reading along with us starting in the fall. We provide the list to you now so you can get a jump start over the summer should any of these titles appeal to you (and we feel certain that they will). We may even dip into the list ahead of time and offer some teasers on the blog.
Purple Hibiscus by Chimamanda Adichie
This is How You Lose Her by Junot Diaz
Partial History of Lost Causes by Jennifer Dubois
A Hologram for the King by Dave Eggers
The Newlyweds by Nell Freudenberger
Atmospheric Disturbances by Rivka Galchen
The Russian Debutante's Handbook by Gary Shteyngart
Battleborn by Clare Vaye Watkins
Southern Cross the Dog by Bill Cheng
Stay tuned to whatsmartwomenread.com for reviews on these novels and more as the summer unfolds.