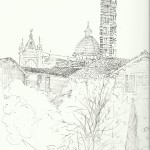 A recent article published in
ScienceÂ
made an interesting distinction between two types of fiction: "Readerly–such as most popular genre fiction–is intended to entertain their most passive readers. Writerly–or literary texts–engage their readers creatively as writers." In other words, literary fiction requires active participation and encourages 'a vibrant discourse with the author and the characters.'
The researchers move beyond this distinction in their study. They hypothesize, and subsequently establish, that because literary fiction "is replete with complicated individuals whose inner lives are rarely easily discerned but warrant exploration," readers develop a greater capacity to understand the emotions of others.
This is quite a benefit for readers of literary fiction and may also explain why book groups are so popular. Not only do the members explore the fiction independently, the interaction with other readers reinforces the connection with the text. Perhaps a future study could examine the heightened empathy of readers who participate in book clubs. In the meantime, it is worth reading the study and sharing the findings with your groups (citation is below).
We took the opportunity to examine the study in tandem with our conversation of Edwidge Danticat's Claire of the Sea Light. This novel is a writerly text and offers the reader multiple opportunities for engagement. The characters are compelling and interesting, and the setting is remarkable. While there is much despair in this small seaside village in Haiti, Danticat's prose is beautiful and hopeful.
Michiko Kakutani of The New York Times wrote, "The perennial subjects in Danticat's fiction and nonfiction—the weight of Haiti's violent history, its extreme poverty and the diaspora that they have created—are addressed indirectly, through the stories of Claire and her family and neighbors in this small town where everyone knows everybody else. There is something fablelike about these tales; the reader is made acutely aware of the patterns of loss and redemption, cruelty and vengeance that thread their way through these characters' lives, and the roles that luck and choice play in shaping their fate . . . Writing with lyrical economy and precision, Danticat recounts [their] stories in crystalline prose that underscores the parallels in their lives.â€
We highly recommend Danticat's latest novel as well as her earlier fiction. She makes an important contribution to contemporary literature. Let us know what you think of the Science article and the novel by posting a comment on our blog.
*David Comer Kidd And Emanuele Castano. Reading Literary Fiction Improves Theory of Mind. Science, October 2013