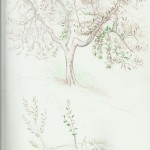 As promised, this summer whatsmartwomenread is dipping into some non-fiction. Our first selection, Michael Pollan's
The Botany of Desire
, turned out to be a winner. Who would imagine that a slim volume about the apple, tulip, cannabis, and potato would make for such interesting reading? Â Pollan's observations are wonderful, especially those focused on the co-evolutionary relationship between man and plant.
His examples look at our uses for plants–the apple for sweetness, tulip for beauty, cannabis for intoxication, and potato for nourishment. However, he also has the reader consider the possibility that plants use humans for their survival. More than anything, the author's enthusiasm for his subject is contagious–even his meditations on the potato (although you may not want to eat them anymore!).
All four sections contain details that surprise the reader (Johnny Appleseed brought the apple to the new world not for notions of health and wholesomeness but for the gift of alcohol). But the section that we found most compelling was the one on cannabis,what he deems a "useful tool for exploring consciousness." This psychoactive plant "teaches us what lies on the other side," "where our materialistic understanding of the brain stops–at least for the time being, but possibly forever."
Pollan writes: "By disabling our moment-by-moment memory, which is ever pulling us off the astounding frontier of the present and throwing us back onto the mapped byways of the past, the cannabinoids open a space for something nearer to direct experience." Pollan also talks about the value of forgetting, which is "vastly underrated as a mental operation….For it is only by forgetting that we ever really drop the thread of time and approach the experience of living in the present moment, so elusive in ordinary hours."
According to The New York Times, "The Botany of Desire is full of such moments — moments when the thickets of rhetoric and supposition clear, and the reader stumbles onto a thesis as elegant and orderly as an apple orchard. If the sum total isn't quite 'a natural history of the human imagination,' as Pollan hopes, it manages to deliver — without threat of jail time — what mind-altering plants have always promised: "New ways of looking at things, and, occasionally, whole new mental constructs." It restores "a kind of innocence to our perceptions of the world."
If you are looking for a book that will expose you to unusual yet fascinating ideas, then check out The Botany of Desire. You won't be disappointed.