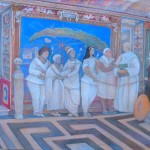 I fell in love with reading in the first grade. If you were well-behaved, you earned the privilege of sitting outside the classroom in a reading circle. We would take turns reading aloud, and I remember the thrill of hearing the words coming off the page and from my mouth. From that moment on, I read everything I could get my hands on.
The books I found at home were not necessarily for children. I remember reading Childbirth Without Fear, One Life: The Story of Christian Baarnard, and Babbitt (my mom had a beautiful collection of Modern Library Classics, but I was nervous about touching them). Then I got really lucky. I had a wonderful AP English teacher at Pinecrest named Mrs. Stubbs. Although we had to read specific books to prepare for the AP exam, I loved each one of them. From the experimental J.B. and Waiting for Godot to the beauty of Faulkner and Fitzgerald, the deal was sealed. I was going to spend my life with books.
I couldn't imagine anything better than being able to declare English as a major and spend all my time in college reading and then writing about the work. It was pure delight going to Lullwater (the park where the Emory University President lived) to sit beneath big trees and daydream about what the words meant. I read and read and read. For a degree!!! Imagine that!
And not that it was a cakewalk. I had some professors that challenged me and even made me cry (one famous Southern lit expert who handed me a roll of paper towels). But I was undeterred. IÂ had my first female professor (Dr. McIntire) who worked tirelessly with me as I wrote my undergraduate thesis on King Lear and my favorite heroine Cordelia. She opened my eyes to the possibilities of critical thinking, reading, and interpretation.
When I studied for my masters, I really found heaven. A small group of students would sit around a seminar table with the professor unpacking the text. There was always more to learn, and I was open to it all. And part of grad school was teaching. So, at the age of 22, I was exposing college students to the books I thought would change their lives as they did mine. I continued to teach at the University of Miami, and these were the happiest years of my professional life. Ernest Gaines visited my class when we read A Lesson Before Dying…..an experience I will never forget. My colleagues and dear friends, Kathleen Satchell and Lois Greene (may she rest in peace), would meet regularly to discuss the stories that were on our reading lists. These meetings were the highlight of our week.
Reading and discussing the literature always went hand in hand. Now I lead a reading group, and this is my joy. And what prompted me to go back and identify how books became so important to me was the death of one of our members. When you read together, you share your world view, your values, your hopes, dreams, and fears. You reveal so much, even though it is in the context of someone else's story. My ladies are my family, my friends, my cherished ones. But it is with such sadness that I write these words. Although our dear friend is no longer with us, we will never sit around the table without feeling her presence. If you are lucky enough to be in a book group, take a minute to think about what the members mean to you. Consider how much you have learned from one another and the important bond that you share. This is the magic of books….the power to unite us, build unbreakable bonds, and enrich our lives.