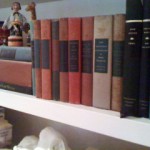 Leah Price, a Harvard English professor, makes interesting observations in
"The Subconscious Shelf" Â in Sunday's
 New York Times.
According to Price, what we display on our bookshelves reflects who we are and how we think, so much in fact that some readers may deliberately place books on their shelves to project a certain image. This triggered some curious thinking not only about what we buy to fill our bookcases but what we actually read and treasure–and, in this age of the e-reader, not only what we read but how we read. What does all of this say about us as smart women readers?
"To expose a bookshelf is to compose a self," Price writes. Think about the books you keep and consider sacrosanct. Are they the books of your childhood, college years, or those you shared with your reading group? Are there books you feel you must buy as opposed to downloading on your Kindle or i-Pad? How do you make those distinctions? And what about the book snoop…the person who loves to see what someone else is reading on a plane, train, or bus? No longer can you start a conversation with a stranger by asking, "What are you reading?" How does the emergence of technology change who we are as a community of readers?
It's hard for this writer to think of an electronic device as a book: Reading involves paper and pen and all the responses that are generated….a conversation that unfolds in the pages between the spine, the glue, and all the markings and dog ears that are part of claiming the work as your own. When you open a book, you learn about the reader and what she valued in that text.
So, in the end, what are some books that smart women read, keep, and display? A few titles that might meet this criteria and are worth your time are:
Out Stealing Horses by Per Petterson
Evidence of Things Unseen by Marianne Wiggins
The English Patient by Michael Ondaajte
Charms for the Easy Life by Kaye Gibbons
The Custom of the Country by Edith Wharton
and anything by Ethan Canin….especially The Palace Thief and America, America
What books have earned a place on your bookshelf? Let us hear from you.