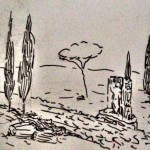 One thing we know for sure, reading is a great escape. And thankfully, this has been a banner year for our book group.
We have been thrilled with our reading list, and the selections have generated exciting, relevant discussions. Probably the two most talked about books of 2016, Colson Whitehead's The Underground Railroad and Elizabeth Strout's My Name is Lucy Barton, did not disappoint. While they are stylistically  and thematically quite different, they both explore relationships between mothers and daughters in all their complexity. And, The Little Red Chairs by Edna O'Brien is a compelling, fictionalized tale of Radovan Karadzic, a man found guilty of war crimes committed by the Bosnian Serb forces.  At its core is the black-haired beauty Fidelma who falls in love with a healer, who is actually this 'Butcher of Bosnia' in disguise. What a tour de force!
We also read Ethan Canin's A Doubter's Almanac and Hanja Yanagihara's A Little Life. Jonathan Safran Foer's Here I Am and Francine Prose's A Changed Man will complete our season of great reads. Stay tuned for thoughts as we move through these titles.
Our February selection, while not a new book, was the best so far. Russell Banks' Continental Drift is one of those books that explores all the big questions of being human and asks the reader to look at the nature of hopelessness as part of the human condition. The focus of the novel is on two central figures whose life stories are spelled out in alternating chapters. Bob (blue-collar worker from New Hampshire) and Vanise (poor and destitute on the island of Haiti) are both on a dead-end journey from completely different worlds. Yet, both are vulnerable to extreme suffering.
The author delves into the the distinctions between self-imposed suffering, sociological suffering, suffering created by man, suffering created by nature, and suffering created by circumstance. There is so much packed into this book, and the writing is genius. Continental Drift is a book for all times as it is the story of being alive in a world that generates indiscriminate pain.
A last thought: Banks uses the geographical concept of continental drift and the narrator looms above the earth looking at the great tragedies and migrations of people over the years. This device helps the reader to understand that what he exposes in his characters is representative of the dispossessed across the globe. And, I think he is also looking at what is happening in an increasingly-connected world (think Jeffrey Sachs and Thomas Friedman).
From our point of view, this is the single most important book we read this year. Not to say that is was the 'best,' but certainly provokes thinking that determines the kind of people we are and what we can do to make our world better. That's why we are also strongly recommending the biography of Paul Farmer entitled Mountains Beyond Mountains by Tracy Kidder….it will inspire and move you to be a better person.
Click here for discussion questions on Continental Drift.