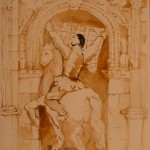 Vladimir Girshkin, the main character of Gary Shteyngart's
The Russian Debutante's Handbook
, has been described as a modern day rogue. One critic suggested that the novel was written "in the tradition of narrative that Sir Walter Scott once dubbed 'a romance of roguery, inviting the audience to identify with a central character branded the underdog and yet who is simultaneously–subversively–in charge, living by his wits as he makes his gloriously unfettered way in an unwelcoming world.'" This genre is also referred to as the picaresque.
Based on the characteristics of the picaresque novel, The Russian Debutante's Handbook meets most of the criteria:
The protaganist is of low character and social class, rarely holding a job and gets by with wit or cunning.
The novel is held together by a series of loosely connected adventures or episodes.
There is little if any character development in the main character.
Circumstances may change but rarely result in a change of heart.
Satire may be a prominent element.
The behavior of a picaresque hero or rogue stops just short of criminality.
Carefree or immoral rascality positions the picaresque hero as a sympathetic outsider, untouched by the false rules of society.
It is much easier to appreciate Shtenyngart's novel (and his writing) if considered with these elements in mind. Vladimir can be trying as a protagonist; he engages in so much absurd behavior that the reader often loses interest in him and his ambitions. He wanders willy nilly across the globe, at times escaping, at times hiding, and every now and then, searching. But the problem for this reader is that it becomes too easy not to care about Vladimir. Not because he lacks maturity, insight, or wisdom but because he has no core values. Even as he escapes from his problems, he just lands into a whole new bundle of them.
So, the answer to the question, is Vladimir Girshkin a wimp or a rogue–that's for you to decide. Let us know what you think of The Russian Debutante's Handbook by posting a comment on the blog. Our next book for the season is Purple Hibiscus by Chimamanda Adichie. We invite you to read this novel along with us.