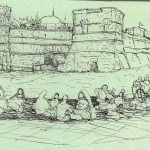 "I can't believe what you say because I see what you do." –James Baldwin
More than ever, reading is essential to understanding our world. While books offer an escape from reality, there are times when we need writers to help us decipher what is happening around us. This summer, we are exploring fiction and non-fiction, both old and new, to find some answers. So far, some of the titles we have read in the non-fiction category include Cecile Richards Make Trouble: Standing Up, Speaking Out, and Finding the Courage to Lead; Willie Parker's Life's Work: A Moral Argument for Choice; and Michael Eric Dyson's What Truth Sounds Like: Robert F. Kennedy, James Baldwin, and our Unfinished Conversation About Race in America.
Each one is important in its own right, and we suggest any or all of them. In particular, if you are a James Baldwin fan, you will find Dyson's book especially interesting. It may even encourage you to go back and read Go Tell It On The Mountain or Giovanni's Room. If you are moved by either Richards or Parker, perhaps a re-reading of Margaret Atwood's The Handmaid's Tale is in order. Perhaps you read Atwood's classic when it was released in 1984 or in the years since. But, if you have not and are watching the series on Hulu, you should get a copy.
In the 2017 edition, Atwood offers a compelling introduction: "Having been born in 1939 and come to consciousness during World War II, I knew that established orders could vanish overnight. Change could also be as fast as lightning. It can't happen here could not be depended on: anything could happen anywhere, given the circumstances." These thoughts and fears led her to create Offred, the heroine of The Handmaid's Tale, and the witness of the story of her time. Atwood says, "There's a literary form….the literature of witness. Offred records her story as best as she can; then she hides it, trusting that it may be discovered later, by someone who is free to understand and share it."
This is the basis for witness, a specific type of first person storytelling. Witness establishes a close and personal point of view chronicling in real-time the events of the day. On this topic, Nadine Gordimer, said, "The realization of what has happened comes from what would seem to deny reality–the transformation of events, motives, emotions and reactions, from the immediacy into the enduring significance that is meaning." Gordimer, like Atwood and Baldwin, created records of crises that 'raised awareness in the moment and can also serve future generations as reminders of what happens when powers corrupts civil life.'
And this is the point: Think of slave narratives such as Harriet Jacobs' Incidents in the Life of a Slave Girl, Aleksandr I. Solzenitsyn's The Gulag Achipelago, or Elie Weisel's Night. These books are first person accounts and have the added power of witness. They were based on personal experience including the extraordinary pain and punishment they endured. For writers, that transformation can also take place with the simple act of witnessing the times, recording the way intolerance, discrimination, and unjust policies impact them and the people around them. Or, it can be an extension of what happened to them personally.
Either way, reading books that explore social, political, racial, and economic crises expands our understanding. A few more titles to consider are An American Marriage by Tayari Jones, Salvage the Bones by Jesmyn Ward, and An Untamed State by Roxanne Gay. Regardless of what you choose, you will be enlightened by the power of witness.
Have a good summer. And, if you want a head start, our "2018-2019 Reading List" is below.
Pachinko by Min Jin Lee
Salvage the Bones by Jesmyn Ward
The Custom of the Country by Edith Wharton
Cartwheel by Jennifer Dubois
The Optimist's Daughter by Eudora Welty
The Flamethrowers by Rachel Kushner
An Untamed State by Roxane Gay
Plot Against America by Philip Roth (or another Roth novel TBD)